May, 2013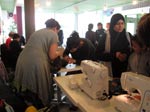 THE SOCIALDRESS SERVICE PROJECT IN BRUSSELS
On April, 27th, my project Socialdress Service appeared at the Trouble festival in Brussels. In the Maison des Femmes I led three sewing worhskops that helped the participants to mend old used clothes, or clothes they'd like to transform.
The team of six local textile design students helped to approx. 40 participants from various social backgrounds. The daylong sewing marathon completed at the end of the day with the exhibition at the Maison des Arts.
The appearance of the Socialdress Service in Brussels was a part of the international collaborative project Crisis, What Crisis?, kurated by Antoine Pickels. The slovenian selector was Mara Vujić, the art director of the City of Women Festival. The Trouble Festival was organised by Les Halles de Schaerbeek.
http://www.socialdress.net/index.php?htm=socialdress/delavnica-eng1
THE JAKOPIČ RECOGNITION
In April 2013 I was awarded with The Jakopič Recognition. The Recognition was granted this yeas first time in the frame of the Jakopič Award, an art award in Slovenia awarded each year for achievements in the fine arts. It has been bestowed since 1969 by the Ljubljana Academy of Fine Arts and Design, the Museum of Modern Art, the Slovene Fine Artists' Association and The Slovene Art Critic' Association. Ony three women artists received the Jakopič Award in the history of this award.
The intervju with me conducted by Petja Grafenauer:
http://www.mladina.si/143516/marija-mojca-pungercar-umetniki-in-drugi-izobrazenci-smo-novi-proletariat/
===========
Marija Mojca Pungerčar
——————
Links:
http://www.halles.be/en/program/571/Crisis–What-Crisis