October, 2012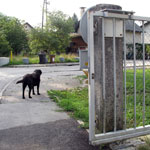 Premiere: Monday, October 15th, 2012 at 6.00 P.M., Slovenska kinoteka, Ljubljana, Slovenia.
Projections: October 16th – November 16th, 2012, Museum of Contemporary Art Metelkova, Ljubljana, Slovenia, ongoing projections with english subtitles.

About the documentary:
The documentary tells life stories of two dogs who found a shelter at the security guards' lodge of the Biotechnical Faculty of the University of Ljubljana. Around both dogs an informal network has gradually developed, consisting of the faculty employees, security guards, neighbors and students, sometimes in amazing connections.
Written, directed, camera, editing: Marija Mojca Pungerčar
Music: Borut Savski
Producer: Trivia Art
Translation: Petra Zaranšek, Katarina Grabnar
Lenght: 44,56 min.
Tehnic: video, color, digital, 4:3
Sound: stereo
More information about the documentary:
http://www.3via.org/index.php?htm=cas_za_sprehod/index
Project was co-financed by the Ministry of Culture of Republic Slovenia. It was made possible with the support of the Museum of Modern Art Ljubljana.