September, 2012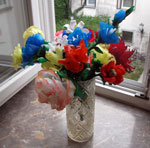 Trivia Art and International Festival of Contemporary Arts City of Women  invite you to participate in two thematic Socialdress workshops by Marija Mojca Pungerčar: Socialdress – Blossoms in Autumn  and Socialdress Service.

Workshop Socialdress – Blossoms in Autumn
Place and time:
– Tuesday, October 2nd 2012, 15.00 – 17.30, Festival of the Third Age, Cankarjev dom, Ljubljana. Free admission to the festival.
– Wednesday and Thursday, October 3rd and 4th 2012, 9.15 – 11.15, Elderly Daycare Centre Šiška, Kunaverjeva 6-8, Ljubljana. Open to everyone.
The workshop Socialdress – Blossom in Autumn is about intergenerational solidarity. We will meet senior citizens at the Festival of the Third Age and the Elderly Daycare Centre Šiška. Other interested visitors are very welcome, in particular grandparents with their grandchildren and parents with children. The workshop will be dedicated to the making of decorative flowers from crepe paper and fabric scraps. See some samples.
We will teach you all that we know and you will you teach us what you know. The exchange of knowledge will go both ways and so we kindly invite those who are familiar with any method of decorative flower making.
With the exception of one flower that we ask to be left with the workshop organisers, participants will be able to take their handiwork home. We will give your flower to the guest of this year's International Festival of Contemporary Arts City of Women.
The workshop is free. We will provide material and tools. However, if you have any fabric scraps, crepe paper, thin wire and torn (but clean!) tights you no longer need, bring them to the workshop. We suggest you bring scissors too.
Prior application for the workshop is requested. Please submit your application for workshop Socialdress – Blossoms in Autumn by Wednesday, September 26th 2012, or until all places are booked. Send your application to: mojca.pungercar@guest.arnes.si.
Workshop Socialdress Service
Time and place:
-Tuesday, October 9th, Friday, October 12th, and Saturday, October 13th 2012, 17.00 – 19.00, Škuc Gallery, Ljubljana
– Wednesday, October 10th 2012, 13.00 – 15.00, Škuc Gallery, Ljubljana
– From Tuesday, October 9th, to Friday, October 12th 2012,  at your home upon prior arrangement.
Socialdress Service workshop will help you in everyday situations when your favourite piece of clothing fails you. At Škuc Gallery, we will help you replace zippers, sew buttons, patch up torn clothes, shorten/lengthen pants, skirts, shirts etc. Mended clothes will be labelled with the Socialdress brand that will be a sign of value added: a unique personal intervention in a ready-made article, a return to the do-it-yourself culture, to self-supply, solidarity in the exchange of knowledge and skills…
The workshop is free but requires prior application. Bring a piece of clothing that needs mending. Clothes have to be washed. Also bring zippers, buttons, fabric and everything you believe you will need. The organisers will provide sewing machines and sewing kits, but we suggest you bring your own scissors.
Socialdress Service can also pay you a home visit! A socialdress agent will help you mend clothing on your own sewing machine in your own home. This socialising event is aimed at the revival of tradition; dressmakers used to work in their clients' homes. If you want to invite us, prepare your clothes that need mending. The service is free; a coffee and a snack will be the best thank you! A home visit will last max 2 hours, but the number of visits are is and in the event of too many requests priority will be given to the most persuasive applications!
Workshop applications should be submitted by Thursday, October 4th 2012 or until all places are booked, to the email address mojca.pungercar@guest.arnes.si.
Please state in your application the date you want us to come, and the date you wish to participate in the workshop; what you wish to do at the workshop and your contact information (email, telephone). If you invite us to your home, please write your address, the brand of your sewing machine (if you have one),a short presentation of why we should accept your invitation and a list of necessary sewing repairs.
———————————————-
Information on workshops available on telephone: 041 882 593 (Mojca) and www.socialdress.net website.
———————————————-
The workshops are a part of an international collaborative project "Crisis, what Crisis?" with the participation of the International Contemporary Arts Festival City of Women.
Produced by: City of Women, KUD Trivia.
With the support of: Lango d.o.o., Festival of the Third Age, Škuc Gallery, Municipal Association of Senior Citizens – Elderly Day Activity Centre.
Project supported by: The Ministry of Education, Science, Culture and Sport of Republic of Slovenia, Ljubljana Municipality, A Space for Live Art.
Links:
http://www.socialdress.net/
http://www.cityofwomen.org/
http://www.mojca.info
http://www.3via.org/