A former fashion designer (1983?1987), she holds a BFA in painting from the Academy of Fine Arts in Ljubljana (1989) and an MFA in new genres from the San Francisco Art Institute (2001). Her work has been concerned with communication and exchange in a broad sense of meaning. Her work in general has a strong documentary character. In many cases she explores the verge between documentation and subversion. In some other projects she uses documentary as the groundwork, and then she implies new structures over it.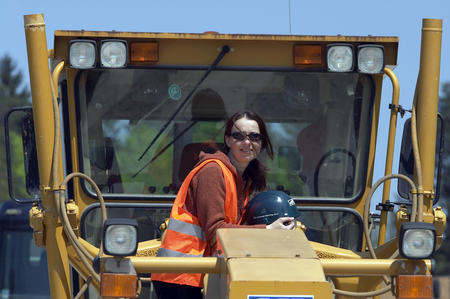 Her work is marked by a strong social engagement, critically rethinking consumerist culture and underscoring issues of locality and community. In 1997,she put clothes on 16 monuments in Ljubljana. Recent projects have involved exchanging used clothes (Dresscode, 2002, with Veronika Klan?nik), documenting her local neighborhood (Outside My Door, 2004, Special Offer, 2005, Stereo-Visions, 2005), and examining fate of the Slovene industry (Singer, 2003, Brotherhood and Unity, 2006).
In 2004, she co-founded Trivia Art. Her awards include an Austrian Academic Exchange Scholarship, an ArtsLink Grant and a Fulbright Scholarship. She works as a freelance artist (video, photography, performance, installation), edits the web-based resource Artservis, and designs theatre costumes.
More: http://www.3via.org/mojca/
Curriculum Vitae: http://www.3via.org/mojca/cvengl