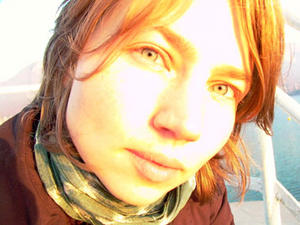 Veronika; photo Li Weingerl

More photos
slovenian

At noon on Thursday, August 18, 2005, my dear friend and collaborator Veronika Klancnik passed away. The severe injuries she incurred in a road accident on the previous Saturday proved to be fatal.

Veronika's creativity took many forms. She was a writer, an artist, a screenwriter, and a translator. Among other things, she was my collaborator on the art projects "A Story in Shoes" and "Dresscode," which we created together in 2001 and 2002, respectively.

I will terribly miss her scintillating mind, her curiosity, her sensitivity, and her human warmth.
Veronika's Work

In her multifaceted activities Veronika contributed greatly to the quality, understanding, acceptance, and promotion of contemporary art and culture. In recent years, she lived and worked in both Ljubljana and Geneva. She wrote articles about art, theater, literature, and other areas, as well as interviews with various contemporary artists.
Her work appeared regularly in the Saturday Supplement of the Delo newspaper, in the newspapers Nedelo and Vecer, and in other publications as well. Since 2001 she was also active as an artist. Her latest project, "Int./Ext. Hotel California," was presented in a solo show last year in Geneva. Recently, she translated from French into Slovene the novel La vie mode d'emploi by Georges Perec. In the period 2000-2002, she wrote two screenplays for feature films. In July of this year, she completed her screenplay for the television film Plan B, which is currently in production.
Marija Mojca Pungercar (English translation: Rawley Grau)
August, 2005
www.3via.org/mojca


About Veronika's death writes among others:
WORK|OUT European Students' Review (http://www.work-out.org/)
Fieldreport (by Kevin Mueller), September 18th, 2005

2005 (c) Marija Mojca Pungerčar