Fotografije & medijske objave / Photos and press klipping

Trivia Records/Zapisi:
- Ponudba čokolade / The offer of the chocolate

- Audio posnetek okrogle mize za poslušanje in download / The audio recording of the round table for play and download
Zloženka / booklet (.pdf):
- zunanja stran / ouside
- notranja stran / inside




O PROJEKTU (English below):
Umetniški projekt sem poimenovala po aktuarskih tabelah "tablice smrtnosti«, ki prikazujejo verjetnost preživetja. Pri izračunavanju demografske statistike se ločeno izračunava pričakovana življenjska doba moških in žensk. Tablice smrtnosti uporabljajo zavarovalnice pri izračunu dosmrtne rente. Sklicujoč se na statistiko, po kateri živijo ženske dlje kot moški, zavarovalnice prisodijo ženskam manjšo pokojnino kot moškim, ob enakih vplačilih in letih varčevanja.
Projekt sestavlja serija ročno izdelane mlečne čokolade, v katero so vtisnjeni podatki pričakovanega trajanja življenja za moške in ženske. Podatki so izračunani na podlagi nemških tablic DAV 1994R, ki so predpisane za slovensko zavarovalništvo. Namen projekta "Tablice smrtnosti" je ozaveščanje skozi užitek. S projektom opozarjam na uporabo demografske statistike v zavarovalništvu, ki jo občutim kot prikrito diskriminacijo žensk v kapitalizmu.


več o projektu
ABOUT THE PROJECT
The »Mortality Table« project is named after an actuarial table which shows, for a person at each age, the probability of surviving any particular year of age. Life expectancy for men and women is calculated separately. This table is used by insurance companies to calculate life annuities. According to the statistics, women outlive men. Insurance companies use this as an excuse to pay out lower pensions to women even though they make the same payments for the same number of years as men.


The project consists of a batch of hand-made milk chocolate bars imprinted with the data of life expectancy for men and women. The calculations are based on the DAV 1994R table which the Slovenian insurance companies are obliged to use. The project aims to inform through pleasure. With it I would like to call your attention to the way the insurance industry uses the demographic statistics, which I feel is a form of hidden discrimination against
women in capitalism.

Marija Mojca Pungerčar - domača stran / home website
----------------------------------------------------------------------------
Avtorica / Author: Marija Mojca Pungerčar
Kustosinja / Curator: Jadranka Ljubičič
Asistentka / Assistant: Ana Grobler
Strokovna sodelavka / Expert collaborator: Mojca Dobnikar
Napisala in uredila / Written and edited by Marija Mojca Pungerčar
Idejna zasnova oblikovanja in spremembe po predlogi M. M. Pungerčar / Design concept and modifications suggested by M. M. Pungerčar realized by Ana Grobler
Prevod / Translated by Marija Mojca Pungerčar, Katarina Grabnar
Producent in založnik: KUD Trivia / Produced and published by Trivia Art
Koproducenti / Co-produced by Festival Rdeče zore / Red Dawns Festival, Galerija Alkatraz / Alkatraz Gallery, Kulturno umetniško društvo Mreža / Association Mreža
Projekt sta podprla Ministrstvo za kulturo RS in Global Fund for Women. Sponzor: Čokoladnica Rajska ptica /
The project has received financial support from the Ministry of Culture of the Republic of Slovenia and the Global Fund for Women. Sponsored by Rajska ptica Chocolaterie


Hvala / Thanks to: Urša Iljaš Petrovič, Ivanka Zobec, Darko Medved, Rok Dremelj


Ljubljana, september 2009

© 2009 Marija Mojca Pungerčar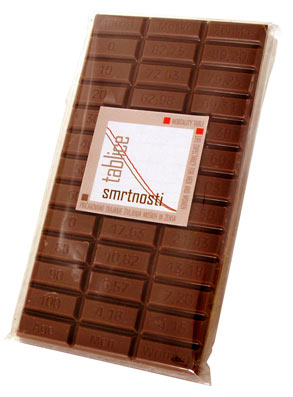 večja slika / enlarge
slika za tisk / print size (650 Kb)



večja slika / enlarge
slika za tisk / print size (636 Kb)
Foto / Photo: Marija Mojca Pungerčar
SPOROČILA ZA JAVNOST
PRESS RELEASE:
24. 09. 09 (slo)
25. 09. 09 (eng)
15. 10. 09 (slo)
25. 10. 09 (slo)


OKROGLA MIZA
THE ROUND TABLE

Četrtek, 5. 11. 2009 ob 19 h/
Thursday, 5th November 2009 at 7 p.m.

Projektna soba Zavoda SCCA - Ljubljana, Metelkova 6, Ljubljana

Voditeljica / Moderated by Vera Kozmik

Več o Okrogli mizi


PROMOCIJA IN/ALI PRODAJA ČOKOLADE

THE PROMOTION AND/OR SALE OF THE CHOLOCATE
9. Festival za tretje življenjsko obdobje
9th Festival for the Third Life Period
30. 9. - 2. 10. 2009
Cankarjev dom, Ljubljana
15. Mednarodni festival sodobnih umetnosti Mesto žensk
15th International Festival of Contemporary Arts – City of Women 10. - 18. 10. 2009
Stara Elektrarna, Ljubljana
Dokumentarci v Mariboru – DokMa 2009
Documentaries in Maribor - DokMa 20092. - 8. 11. 2009
Kino Partizan, Pekarna, Maribor

Knjigarna Azil
Azil Bookstore
Novi trg 2, Ljubljana
Od 20. 10. 2009 dalje / From 20th October 2009


INFORMACIJE IN NAROČILA

INFORMATIONS ANS ORDERS

041 882 593
info@3via.org